The CTSA National Center for Data to Health (CD2H) accelerates advancements in informatics by utilizing findable, accessible, interoperable, and reusable (FAIR) principles to promote collaboration across the Clinical and Translational Science Awards (CTSA) Program community.
The CD2H provides support and infrastructure, ensuring a smooth and successful transition for CTSAs. Our tools and resources make it simple and valuable for CTSA Program members to get engaged, connect with peers, and contribute. By increasing collaboration, the CD2H fosters a robust translational science informatics ecosystem that will collectively develop solutions to solve clinical problems faster, more efficiently, and more effectively.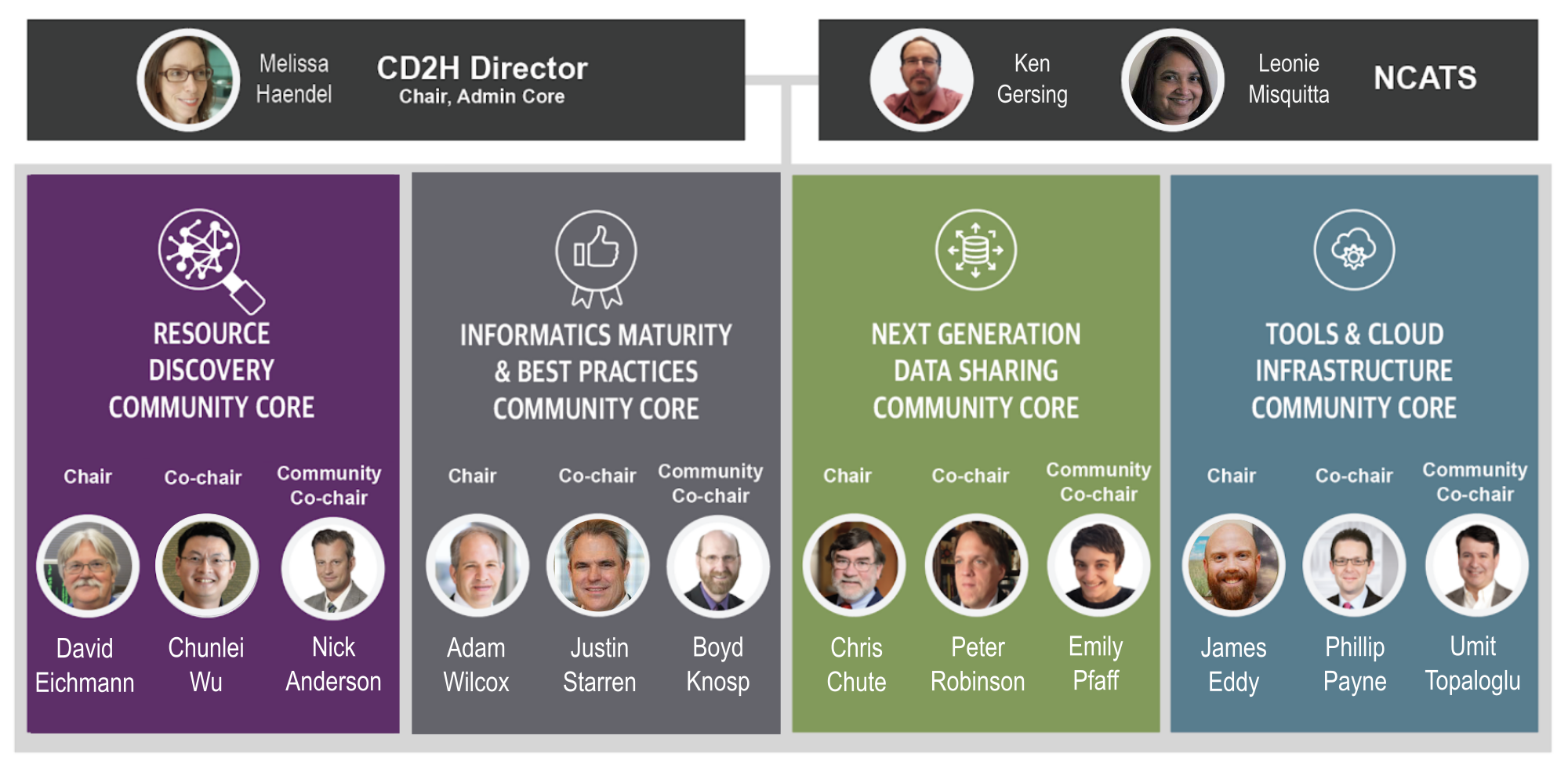 Our Mission:
Informatics advancements, coupled with a shift towards open science, are in the process of fundamentally transforming how we approach translational research and clinical care. The CTSA Program is poised to help realize precision medicine by leveraging informatics tools and expertise within CTSA hubs to solve key informatics challenges across the translational spectrum.
The CD2H was funded in fall 2017 to coordinate and integrate informatics for the CTSA Program by promoting data reuse and interoperability, tool sharing, informatics fluency, and collaboration. We are here to serve the CTSA Program by creating additional resources, building impactful infrastructure, and further coalescing the community to develop and implement innovative solutions.
Towards these goals, CD2H seeks input from, and collaboration with, the CTSA Program. We convene the community through our CORES and Community Projects focused on data, software, and people; and partner with the community to iteratively develop solutions through CD2H Labs and our DREAM Challenges. The ultimate goal of the CD2H is to help CTSA Hubs thrive, accelerate advancements in informatics, and improve patient care.
Our Objectives:
Support and enhance a collaborative informatics community
Develop good data practices
Promote software standards for interoperability
Grow collaborative innovation across informatics tools, methods, and processes
Advance cutting edge biomedical research informatics
Expand data science education for the translational workforce
Develop and apply novel analytic methods and tools to evaluate the impact of these activities to enhance health care through data and informatics
---